Chorus Ensemble Mini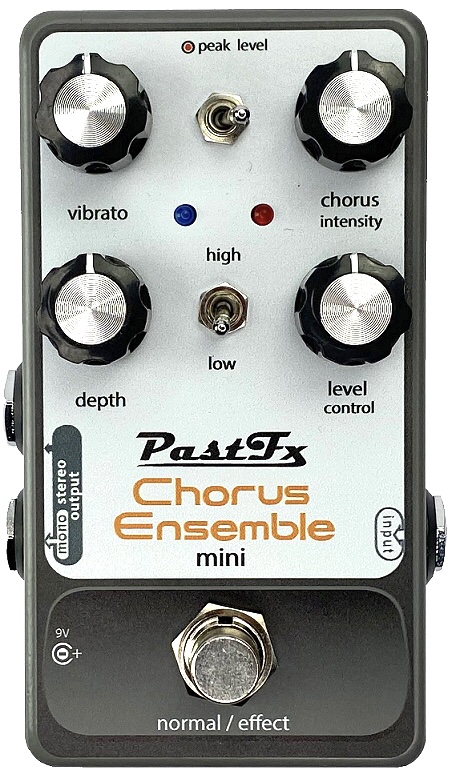 A compact version of the PastFx Chorus Ensemble Deluxe, providing the same sonic experience in a pedalboard-friendly enclosure that boasts the smallest full-featured Chorus Ensemble available on the market.
Debit or Credit Card
Payment Available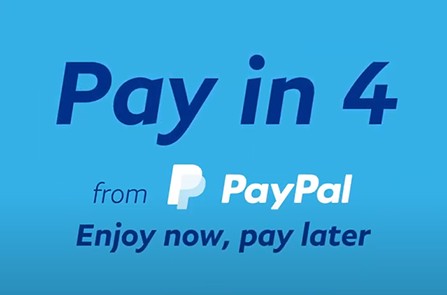 What is it?
The PastFx Chorus Ensemble Mini (CEM) is based upon the Holy Grail of Chorus pedals, The BOSS® CE-1. First released in 1976 it became famous for lush Chorus and Leslie effect Vibrato.
The CEM is currently the smallest recreation of the The BOSS® CE-1 available. It is approximately 1/4 of the size and weight of an original. At 40yrs of age, original units can develop reliability issues and require capacitor replacement and extensive servicing. Unmodified working originals are becoming harder to find and are expensive. The CEM requires no fuses and is not powered by mains voltage. With today's advancements in technology, the CEM operates off the same bipolar voltages as The BOSS® CE-1, however it only requires standard 9vdc pedal power supply.
Features
Uses obsolete 512 stage 1970's bucket brigade chip

incorporates the "Noise Killer" circuitry

Same unique Preamp stage

Normal / effect footswitch

Vibrato / Chorus toggle switch

Triangle Wave LFO – Chorus

Sinewave LFO - Vibrato

Not True Bypass (Jfet switching as original )

Red

LED Peak Level Indicator visual feedback of input sensitivity

High / Low Input sensitivity changeover switch

Blue

LFO rate LED, visual indication of LFO Rate

Stereo/ Mono Outputs. In a Stereo setup, wet signal is directed to the Stereo jack and Dry to the Mono output jack.
Vibrato controls are Depth & Rate

Chorus is controlled by Intensity knob (which controls both rate and depth)

When effect is bypassed the LFO LED indicator remains on without flashing

Pedalboard friendly, uses minimal real estate and operates off industry standard (9VDC negative tip )

The CEM also incorporates up to 2 extra popular modifications that many owners of the original unit would use.

Depth Mod

This mod is popular for those who were wanting more control over their chorus effect.

The Vibrato Depth knob now controls the Depth of both the Chorus & Vibrato. The Stock depth setting of the Chorus can still be achieved by turning the Vibrato Depth knob fully clockwise.

Buffer Mod

Many owners of the original noticed that when selecting the high on the input sensitivity switch that some of the high frequencies of their signal was lost. This was a desirable outcome for some. To remedy this, some users would place a buffer before the BOSS® CE-1 to restore the high frequencies. The CED comes with an inbuilt buffer circuit which can be added or removed as desired.

Note: When clipping the signal heavily by having the Level control on high, it can give various responses based on what type of amp is being played through.

On some amps it can almost sound like a fuzz, and on others a more traditional crunch sound! This is the same experience with the original.
Dimensions : 112 x 60 x 53mm (1590B style enclosure)
Current draw approx : 110-130MA (Please read user manual for specific powering requirements before purchasing)
---
AS WE ARE ALWAYS LOOKING FOR WAYS TO IMPROVE OUR PRODUCTS, PRODUCT SPECIFICATIONS ARE SUBJECT TO CHANGE WITHOUT NOTICE.
---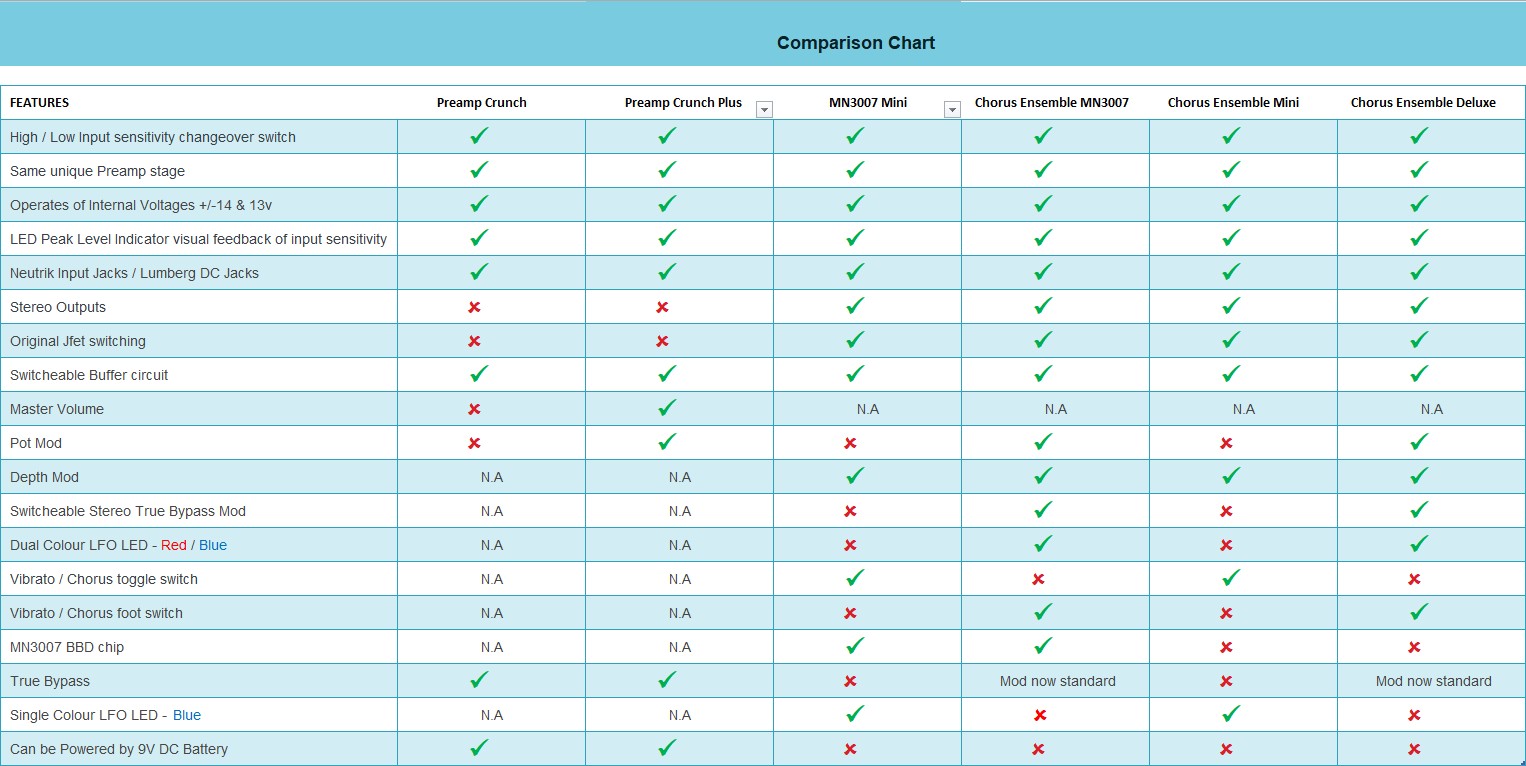 Reviews:
Pedal came well packed and sounds brilliant!! Seller is super friendly and answered all my questions really quickly. Thanks!! Stuff and Stuff
One of the best to deal with on Reverb!
Lightning fast , friendly communication through every step of the buying & shipping process. Brilliant pedal that sounds sooo good! Tim Holden
Best chorus/vibrato I've played. Makes everything sound better. Dead silent operation. A perfect pedal. Fast shipping. Great communication. Thank you. soundheads gear
The ideal seller! A totally classy operation creating an amazing product! :) Richard's Shop
Exactly the same sound as the Boss CE-1 in a tiny format ! And like a Boss CE-1 don't forget to put a buffer before to recover from treble loss.
Wonderful pedal and great seller ! Frédéric's Gear Garage